Announcing the winner for the Seamus Heaney First Collection Poetry Prize 2022. 
The Seamus Heaney Centre at Queen's University Belfast has announced the winner of their 2022 Poetry Prize for a First Collection, supported by the Atlantic Philanthropies.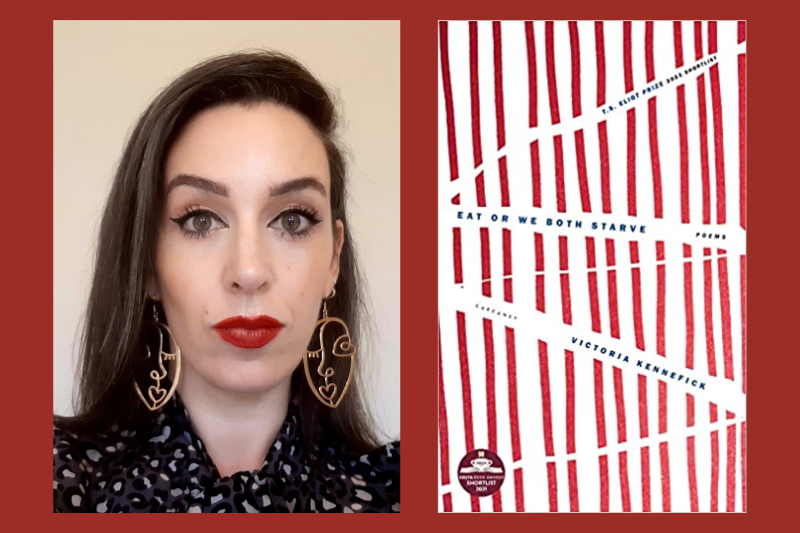 Victoria Kennefick was announced as the winner for Eat Or We Both Starve, published by Carcanet (2021) during the Award Night readings in the Crescent Arts Centre, Belfast on Thursday 23rd June 2022.
Victoria Kennefick is a poet, writer and teacher from Shanagarry, Co. Cork now based in Co. Kerry. She holds a doctorate in English from University College Cork and studied at Emory University and Georgia College and State University as part of a Fulbright Scholarship. She is on the committee of Listowel Writers' Week, Ireland's longest-running literary festival.
Her pamphlet, White Whale (Southword Editions, 2015), won the Munster Literature Centre Fool for Poetry Chapbook Competition and the Saboteur Award for Best Poetry Pamphlet. Her work has been widely published, and many of her poems have been anthologised and broadcast on national radio stations. Her debut collection Eat Or We Both Starve was named Book of the Year 2021 by the Guardian, the White Review, and the Sunday Independent (Dublin), and was listed in Best Poetry Books 2021 by the Irish Times and the Telegraph.
Victoria is a recipient of a Next Generation Artist Award from the Arts Council of Ireland, and has won a number of other awards including the 2013 Red Line Book Festival Poetry Prize. She was shortlisted for the T.S Eliot Prize 2021, the Costa Poetry Award 2021, and the Emerging Writer of the Year in the Dalkey Literary Awards 2022.
Speaking about her award, she said:
"When I was little my mother met Seamus Heaney in a restaurant and told him about my ambition to be a poet. 'But she already is,' he assured her and signed a napkin which I still have. Many years later, with much trepidation, I submitted my application for the Seamus Heaney Summer School, my first experience attending a residential poetry course. It had a transformational impact on my writing life, learning as I did from the late, great and much-missed Ciaran Carson, Sinéad Morrissey and Leontia Flynn. During the Summer School, I attended the ceremony for the Seamus Heaney First Collection Poetry Prize, won that year by Rachael Boast, so it feels like a full and magical circle that my book has now been given the same honour. I am so grateful to the judges and to all at the Seamus Heaney Centre, and excited too for future poets who will continue to be nourished by Heaney's legacy as I have been."
This year's judges are Professor Nick Laird, poet and Seamus Heaney Professor of Poetry at Queen's University; Dr Stephen Sexton, poet and lecturer in Poetry at the Seamus Heaney Centre. They are joined by the acclaimed poet Jessica Traynor.
Jessica Traynor, poet and guest judge of this year's prize commented: "In Eat or We Both Starve Kennefick gives us a set of metaphysical explorations of what it means to hunger, both spiritually and physically. These questing poems are grounded by language that is both earthy and tactile. Unafraid to lean into the grotesqueness of the body, here we find a world where cannibals confess that 'Hunger...proved stronger than grief.' Keenly attuned to pleasure, too, here female experience is expressed with joyful abandon: 'Afterwards, our seams popping, we shriek with laughter.'"
The audience heard from all shortlisted collections at the Award Night, as part of the Seamus Heaney Poetry Summer School. The event took place in person for the first time since 2019, at the Crescent Arts Centre in Belfast, supported by No Alibis Bookstore.
The Shortlist included:
The Time Being, by John FitzGerald (Gallery Books, 2021)
Aurora Town, by Annie Katchinska (Broken Sleep, 2021)
Honorifics, by Cynthia Miller (Nine Arches Press, 2021)
The Important Things, by Audrey Molloy (Gallery Books, 2021)
Deltas, by Leonie Rushforth (Prototype, 2021)
The Seamus Heaney Centre Poetry Prize is awarded annually to a writer whose first full collection has been published in the preceding year, by a UK or Ireland-based publisher. The winning writer receives £5,000 and is invited to participate in the Seamus Heaney Centre's busy calendar of literary events.
Media
Media enquiries to Sian Devlin at Queen's Communications Office on +44 (0)28 9097 3259 or email: s.devlin@qub.ac.uk
Further Information contact:
Rachel Brown | Centre Coordinator | Seamus Heaney Centre at Queen's r.brown@qub.ac.uk | +44(0)28 9097 1077 | http://www.seamusheaneycentre.com/
Notes to Editor:
1. About the Seamus Heaney Centre
Since 2003 the Seamus Heaney Centre at Queen's has been home to some of the UK and Ireland's foremost poets, novelists, scriptwriters, and critics. Building on a literary heritage at Queen's University Belfast that stretches back to the 1960s 'Belfast Group', the Centre is dedicated to excellence and innovation in creative writing and poetry criticism.