BBC Storytellers: students from the Seamus Heaney Centre on BBC Radio Ulster and BBC Sounds
Every Saturday in February this year, a special series of short stories by students at the Seamus Heaney Centre at Queen's will be aired on BBC Radio Ulster's Storytellers programme.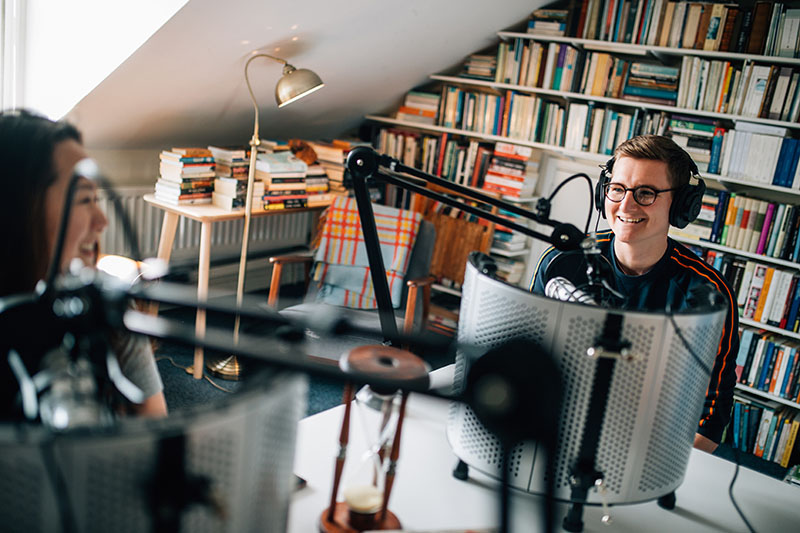 During the autumn term students at the Seamus Heaney Centre at Queen's had the opportunity to submit stories to BBC commissioning editors, and work on their drafts together at weekly writing workshops. Eight of the stories submitted were selected for production earlier this year, and will be on the airwaves every Saturday in February.
The writers featured in this series of programmes are Emma Devlin, Sharon Dempsey, Peter Jordan, Joseph Scott, Dara McWade, Andrew Comiskey, Luke Macpherson, and Natt Bartell.
The producers and actors involved commented on the incredible talent coming from the Creative Writing programme at Queen's, and it is hoped this collaboration will continue, providing a valuable opportunity for students to have their work shared worldwide, and for listeners to hear fresh new voices.
Tune in to BBC Radio Ulster this February, or catch up on BBC Sounds. The full schedule of stories is below.
Sat 5 Feb at 12.30pm
The Book of Jesse by Emma Devlin, read by Thomas Finnegan
Negliée Pink by Sharon Dempsey, read by Clare McMahon
Sat 12 Feb at 12.30pm
The Stigmata by Peter Jordan, read by Cillian Lenaghan
The Seven Hills by Joseph Scott, read by Rose Henderson
Sat 19 Feb at 12.30pm
The Director of Corporate Finance by Dara McWade, read by Niamh McGrady
Rather be Parochial by Andrew Comiskey, read by Ross White
Sat 26 Feb at 12.30pm
Pandamonium by Luke Macpherson, read by Luke Macpherson
On Pearls and the Swine Who Wear Them by Natt Bartell, read by Michael Patrick
Tune in to the BBC Storytellers series here.
Media
shc@qub.ac.uk